I simplify website design.
Overwhelmed and don't know where to begin?
I can do it for you --OR-- teach you how!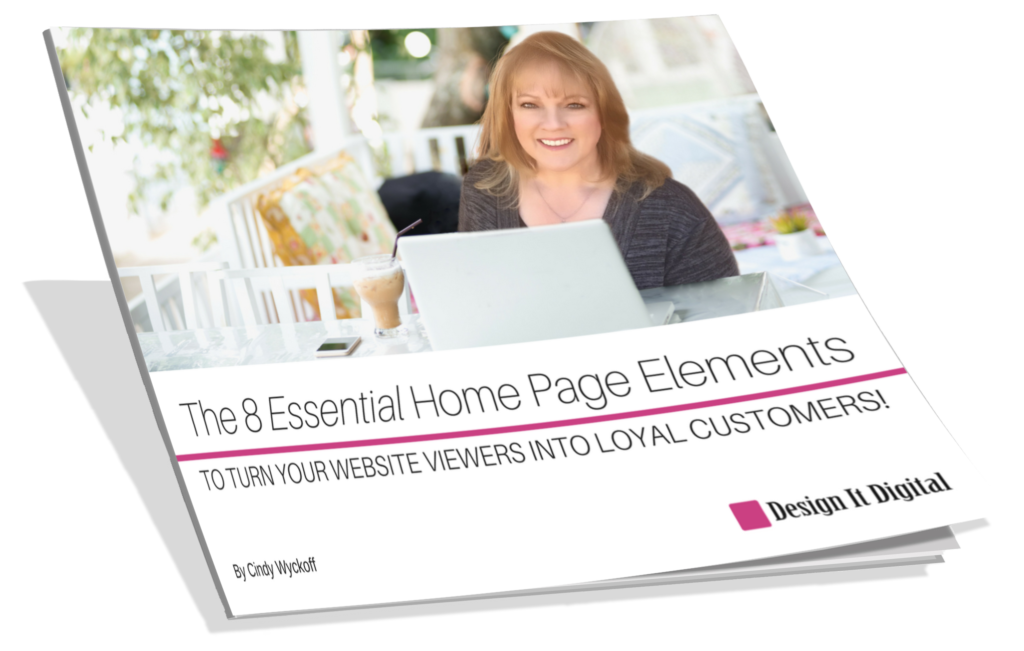 Change your website from "What?" to "WOW!"
...Grab my free ebooklet to learn the simple steps...
Highly Recommended!
I am so grateful I found Cindy! She has taken my hand and gracefully walked me through all of the step I needed to get not only 1, but 2 websites going. I believe she has the patience of an angel. She talks me through the branding to truly draw in my clients and the message I'm trying to create. I recommend her to all of my associates.
 ~

 ~ Michelle McReavy, MichelleMcReavy.com
Way above and beyond
I highly recommend Cindy at DesignItDigital. She has gone above and beyond in helping me not only solve the multiple issues I've had on my website since switching hosting companies, but also to help me learn how to solve them myself. She is patient and tenacious.....she works until she finds and can resolve the issue. I appreciate having a dedicated and knowledgeable professional helping with my website and couldn't manage without her!
~ Jenn Camargo, TheEssentialHomemaker.com
Such Peace of Mind!
Working with Cindy was as easy as it could be! She guided me through the whole process, EXPLAINING step-by-step the procedure which gave me SUCH PEACE OF MIND! My lack of TECHIE knowledge was making me very anxious and she put my mind at ease. Cindy worked quickly and everything was smooth and effortless for me. I highly recommend her to ANYONE needing reliable and transparent tech support.
- Raine Boyd, Artist | LimeTreeFruits.com
RECOMMEND WITHOUT RESERVATION
Cindy is simiply magical. Her ability to ask the right questions to get what's in your head onto your website is unmatched. I have worked with web designers in the past and they tend to provide more problems than solutions. Cindy's troubleshooting and availability makes the process stress-free. My site is everything i wanted. Those that frequent the site love how easy it is to navigate. I recommend Design it Digital without reservation.
 ~ Simeon Lawrence CEO of Feel Good Music Coalition
The MOST AWESOME Web Designer
I can't say enough about how AWESOME Cindy has been. She's helped me with (be prepared the list is long) -branding - figuring out what I liked and wanted (because I wasn't sure at first), she helped me pick out colors that resonated with me, and fonts that would work for all my uses, she created my logo, she helped me figure out WHAT I wanted to portray on my website - what I'm trying to say, who I'm talking to, who I want to help.
She helped me endlessly and patiently understand how things worked, how to set up emails, opt-ins and SO much more - and the best part is that she totally understood what I wanted in my website - she heard me when I spoke and delivered a website that I love, look forward to putting blog posts on, and am happy to send people to.  ~ Risa Lynch, RisaLynch.com